Having broken my Right arm, and wrist, for real, last Saturday night, and had surgery for a compound fracture with metal plates and screws inserted on Tuesday, I have learned a lot about slings over the last few days. This is my Left handed typing too, which is getting pretty good, pretty quickly! This is a serious injury and actually quite painful. And, of course, I have to keep my arm elevated. It also feels like it weighs a ton!
I am small and the two slings I was issued from the hospital, one from the ER and one after my surgery, were both way too big and slipped all over the place and were, consequently, inadequate! They were both terribly uncomfortable and would not stay in place at all! I  found this very annoying!
I immediately remembered Grace Kelly using her Hermes scarf as an elegant sling in a similar situation and got right down to trying it. There is nothing unusual about using a square piece of cloth or a scarf for a sling! It has been standard emergency medical practice forever. I found quite a few how to directions online. One instructed actors as well as injured people on how to make a proper sling until you could get professional medical attention.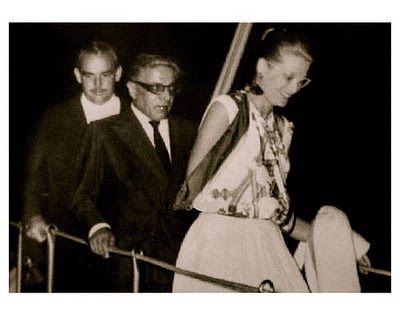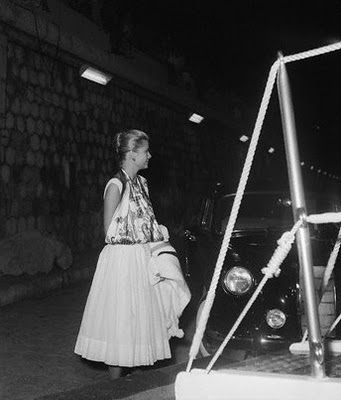 Being an actress I wondered if Grace had studied this in acting classes? It was easy to follow so it is the one I decided to use and link to. How to Make a Sling Out of a Scarf Instructions. This is from eHow Trusted advice for the curiuos life.
They didn't give specific Instructions for Tying the Grace Kelly Hermes Scarf Sling for a Broken Arm or Hermes or Other Scarf Sling Size Instructions so I will. They assume many scarf shapes or sizes will work.  And they probably will with experimentation. I was interested in what Grace Kelly used and how she did it. So here is that specific information.
Instructions for Tying the Grace Kelly Hermes Scarf Sling for a Broken Arm
And Hermes or Other Scarf Sling Size Instructions
by Lady Violette de Courcy
1). Grace Kelly used a 35 inch square Hermes silk scarf laid out on a flat surface and brought the opposite corners together folding the scarf in half in a triangle. She then tied the diagonal corners into a secure knot.
2) Grace then placed  the knot over her head so that the scarf draped down over her chest in a loop and the knot rested on her shoulder just to the side of her neck. (Not directly on the spine as that can injure the neck and or spine.)
3) She then gathered the Hermes scarf loop together and pulled it up in front of her injured arm. She positioned her scarf with the wide striped outside border to the outside (her shoulder side) as you can see in the top photograph.
4) Then Grace slowly slid her injured hand and injured arm into the scarf loop. She continued to gently slide the injured arm into the loop until the entire forearm was tucked inside.
5) Grace then tucked her elbow and hand into the loop ensuring that her entire arm was protected within the sling. The Hermes scarf was large and she had excess fabric on the end of the elbow. She folded this excess fabric over the front of the arm and pinned it to the sling with a large 24K gold safety pin, concealed discreetly inside the folds of the Hermes scarf for extra support. This last step kept her elegant Hermes scarf sling from slipping and held her injured arm secure and close to her torso.
I followed these instructions to the letter with a friend's help tying and pinning my 35 inch square Hermes scarf the first time because it was impossible for me to do it alone with a broken arm! I am quite sure Grace Kelly had to have help as well when her arm was broken! However, once we got it sized and adjusted and perfectly tied to fit it stayed that way and I could slip it on and off and slip my injured right arm in and out of it quite easily and safely all by myself! I, incidentally, used a sterling silver pin, instead of a 24K gold one! And it worked just perfectly!
I made note of the fact that Grace Kelly had also broken her right arm!
It is perfectly fine to use a Hermes scarf or any other strong scarf, vintage or new, designer or not, to make an elegant, secure custom fitted sling! The point is to make it out of a scarf you like and to have a tidy fit that will be secure and stay put while your injured arm heels safely.
Thank you Grace Kelly for this wonderful stylish idea that makes me feel better both physically and psychologically while recovering from an unpleasant injury! It helps!